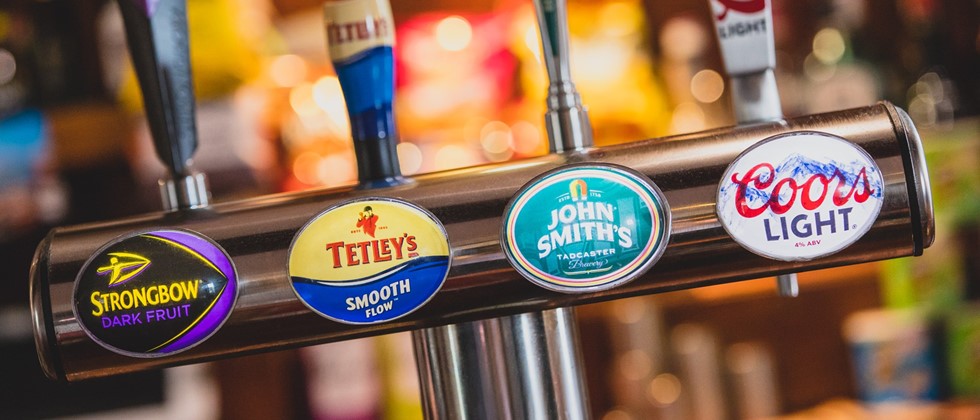 Drinks
Beer
Carling
, Carling
(4.1%)
Carling has been Britain's best selling lager for more than three decades. It is brewed to have the perfect balance of sweetness & bitterness ensuring it is as brilliantly refreshing from the first sip to the last.
Beer
Coors light
, Coors Brewers Ltd
(4.0%)
The Coldest of the Cold!
Beer
Fosters
, Heineken
(4.0%)
A pleasant, fruity, lighter-styled quaffing lager
Beer
Guinness Original
, Guinness
(4.2%)
Swirling clouds tumble as the storm begins to calm.
Beer
Hobgoblin Gold
, Wychwood Brewery Company Ltd
(4.2%)
Hobgoblin Gold is the latest beer carrying the little fella's moniker, and while Gold might be lighter in colour, it's definitely no lightweight
Beer
John Smiths Cask Bitter
, John Smith's Brewery
(3.7%)
Bronze and amber colouring with a malt and fruity smell.
Beer
San Miguel
, San Miguel Brewery Inc.
(5.0%)
The unique recipe and San Miguel yeast come together to deliver a refreshing, full bodied beer with a great taste. San Miguel is a pilsner style lager, inspired by the Spanish way of life.
Beer
Tetley's Smooth Flow
, Carlsberg UK Ltd
(3.6%)
After nearly two centuries of perfecting the brewing process, the name Tetley's is synonymous with a smooth, tasty pint created from a perfect combination of traditional and modern brewing techniques.
Cider
Strongbow
, Heineken
(4.5%)
Strongbow gets its distinctive flavour and cut-through refreshment through the unique blends of bittersweet British cider apples from our Herefordshire orchards.
Cider
Strongbow Dark Fruit
, Heineken
(4.0%)
Crisp Strongbow cut with a blend of dark fruit
Wine
Shiraz, Pinot Grigio, Merlot, Chardonnay, White Zinfadel
, Jack Rabbit
(10.5 to 13%)